2021 Ram Etorque Problems
The 2021 Ram 1500 eTorque is a hybrid truck that incorporates a 48-volt mild-hybrid system designed to improve fuel economy, increase low-end torque, and provide a smoother stop-start experience. 
While the eTorque system generally performs well, some owners have reported issues with their 2021 Ram 1500 eTorque trucks. Here are a few commonly reported problems:
Stop-start system issues: 
Some owners have reported that the stop-start system may be less smooth than expected, with occasional rough restarts or shuddering. This issue may be caused by software calibration or the eTorque system's motor generator unit.
Electronic throttle control issues: 
Some users have experienced warning lights or error codes related to the electronic throttle control. This problem may require a software update or a replacement of the throttle body.
Alternator and battery issues:
In some cases, the eTorque system's 48-volt battery may not hold a charge, resulting in issues with the truck's electrical system. This could be due to a faulty battery or a problem with the alternator.
Reduced performance: 
A few owners have noted a lack of low-end torque or slower acceleration in their eTorque-equipped trucks. This issue could be related to the eTorque motor generator unit or software calibration.
Check engine light: 
Some users have reported checking engine lights related to the eTorque system. These issues may be caused by a malfunction in the system's sensors or wiring.
It's important to note that not all 2021 Ram 1500 eTorque trucks experience these problems, and many owners have been satisfied with their trucks' performance. If you encounter any issues, 
It's recommended to take your truck to a certified Ram dealership for proper diagnosis and repair. In many cases, software updates or warranty-covered repairs can resolve these problems.
Who would benefit the most from a Ram 1500 hemi etorque truck
2021 Ram Etorque Review
If you're in the market for a new truck, the 2021 Ram Etorque is definitely worth a look. This truck has a lot to offer, including a powerful engine, comfortable seating, and a variety of helpful features. The Etorque comes with a 3.6-liter V6 engine that produces 305 horsepower and 269 lb-ft of torque.

It's paired with an eight-speed automatic transmission, and four-wheel drive is standard. The truck has no problem towing up to 7,700 pounds or carrying 1,920 pounds in the bed. The cabin is spacious and well-built, with plenty of headroom and legroom for all passengers.

The seats are comfortable and supportive, even on long drives. And there are plenty of storage pockets throughout the cabin to keep your belongings organized. Some of the other great features available on the Etorque include adaptive cruise control, blind spot monitoring, lane departure warning, rear cross-traffic alert, and Trailer Sway Control.

You can also add on the available Uconnect infotainment system with an 8.4-inch touchscreen display. This system includes navigation, Apple CarPlay/Android Auto compatibility, satellite radio, and more. All in all, the 2021 Ram Etorque is a great option if you're looking for a new truck this year.

It's packed with features that will make your life easier whether you're headed to work or going on a road trip.
2022 Ram Etorque Problems
In 2022, Ram introduced the Etorque system on some of its trucks. This system is designed to improve fuel economy and towing performance by using a 48-volt battery pack to provide extra torque when needed. However, there have been reports of problems with the Etorque system, including issues with the battery pack and engine control module.

If you own a 2022 Ram truck with the Etorque system, be sure to keep an eye out for these potential problems.
2022 Ram Etorque Review
The all-new 2022 Ram 1500 Etorque is a light-duty truck that's been completely redesigned from the ground up. It's available in both Crew Cab and Quad Cab body styles and can be had in either a 4×2 or 4×4 configuration. The Etorque comes standard with a 3.6-liter V6 engine that produces 305 horsepower and 269 lb-ft of torque.

But what really sets this truck apart is its 48-volt mild hybrid system that allows for regenerative braking and cylinder deactivation, which improves fuel economy by up to 5%. The Etorque is also available with an optional 5.7-liter Hemi V8 engine that produces 395 horsepower and 410 lb-ft of torque. And like the V6, it too comes with cylinder deactivation for improved fuel economy.

So how does the new Etorque drive? In a word, it's impressive. The V6 engine is more than capable of hauling around whatever you need to throw at it, and the addition of the mild hybrid system ensures that you're getting optimal fuel economy while doing so.

The Hemi V8 is downright ferocious, providing plenty of power for those who need it. But even if you don't opt for the Hemi, the Etorque still provides plenty of power thanks to its standard 305 horsepower V6 engine. Whether you're looking for a light-duty truck that can do it all or one that simply gets the job done without breaking a sweat, the Ram 1500 Etorque should definitely be on your radar.
Ram Etorque Battery Replacement Cost
The Ram Etorque system is a battery-assisted mild hybrid system that is available on the 2019 Ram 1500. This system uses a 48-volt lithium-ion battery to provide additional torque and power when needed and also helps improve fuel efficiency by up to 8%. If you are in need of a Ram Etorque battery replacement, the cost will vary depending on where you go and who you talk to.

However, we have found that the average cost for this type of replacement ranges between $1,200 and $1,500. This price includes both the cost of the battery itself as well as labor costs associated with installing the new battery. Of course, if you are experiencing any issues with your Ram Etorque system, it is always best to consult with a certified Ram dealer or mechanic before attempting any repairs on your own.

They will be able to diagnose the problem and provide you with an accurate estimate of repair costs.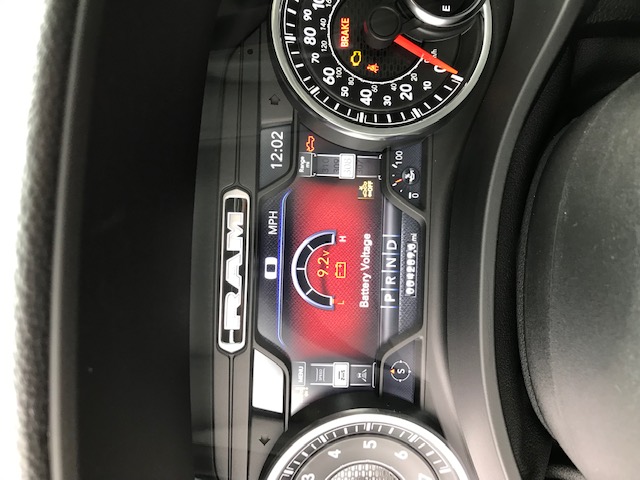 Credit: www.carcomplaints.com
Is Ram Etorque Any Good?
Ram eTorque is a mild hybrid system that's available on the Ram 1500 pickup truck. It's designed to improve fuel economy and torque, and it does both of those things quite well. The biggest drawback of the system is its cost, which is why it's not available on every trim level of the Ram 1500.

If you're looking for a fuel-efficient pickup truck and don't mind paying a little extra for the eTorque system, then the Ram 1500 is a great option.
How Long Will Etorque Last?
In terms of eTorque's battery life, it is said to last around 10 years or 150,000 miles before it needs to be replaced. This is due to the fact that eTorque batteries are made with high-quality materials and are designed to withstand years of use. Furthermore, eTorque batteries come with a warranty so if anything were to happen to your battery within the first few years, you would be covered.

Overall, eTorque batteries are built to last and will provide you with many years of reliable service.
Is the Ram Hemi Etorque Reliable?
The Ram Hemi eTorque is a reliable engine option for those looking for a power boost in their truck. This engine offers an impressive towing capacity and plenty of torque to get the job done. The eTorque system also provides enhanced fuel economy and lower emissions, making it a great choice for eco-conscious drivers.
Are There Any Recalls on a 2021 Dodge Ram 1500?
No, there are no recalls on the 2021 Dodge Ram 1500 at this time.
Conclusion
There have been a few reports of 2021 Ram Etorque problems. The most common seems to be an issue with the battery pack, which can cause the truck to lose power or stall. There have also been reports of the Etorque system not working properly, which can cause the truck to use more fuel than it should.

If you're having any problems with your Ram Etorque, be sure to take it to a dealer for service.